SEP 28, 2016: It's been awhile since I've been able to report anything tangible in this column. Even now, it's not exactly "tangible" (unless you consider a CD "tangible" - which it
will
be eventually). Here are two excerpts of the audiobook I'm currently working on. This book, "The Topsail Trek", written by JT Kalnay, is a 386-page novel (his 17th, I believe). His innovative use of language brings us a bounty of interesting, fully-developed characters, written in a style that (to me) is reminiscent of Tennessee Williams. Instead of "titled" or numbered chapters, Mr. Kalnay tells his story
through
his characters - each chapter furthering the plot through
their
words, much like interviews or readings from various diaries. There is no "narration" (omnipotent observer) - just characters. So my job has been quite a challenge doing all of these voices (including male voices), to say the least. I am thoroughly LOVING it. I hope this wets your whistle to the point that, when the CD goes up for sale on Audible.com, Amazon.com and iTunes.com, you might consider ordering yourself a copy (I get a cut of the royalties). I am about a third of the way through recording, so it will be quite awhile before it's finished. I'll post the news here when the time comes.
In the meantime, here's a taste (best heard through a good set of headphones). The first sample is of the lead character, Gillian, a 49-year-old woman, dazed by years of physical and emotional abuse by her husband. She is a writer of poetry and spends most of her waking hours alone on the shore of the Atlantic by her home in Topsail Beach, North Carolina.
This excerpt contains four other characters from the book. It's from a "Brady" chapter - a frat boy from Ohio who is volunteering as a lifeguard on Topsail Beach for the summer while training for the Olympics. He is carefully watching two people in the water: the director of a cheesy TV reality show and his lead actress.
It's so much fun doing this, I almost feel guilty (but not quite - it's a lot of work). I'll keep you posted.
MAR 25, 2015: The Brown commission is complete. I will walk you through this final phase for those who are painting along with this one. Many of you have asked about "the method". I will explain in detail how I've used it for this painting toward the end of this post. You might want to check out my
PAINTING PROCESS
page before diving in.
Brown commission complete
There were many unexpected challenges in this one. If you've been following the progress of the painting since Day 1, you know what they were. The big one for me was trying to capture that wild, summery feeling as well as the playful, slyness in her expression. I think I got pretty close. The subtleties were intense, but very rewarding once I identified what within the image constituted "wild", "hot/cold", "sly" and "candid".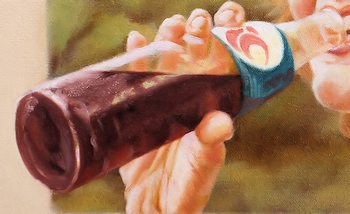 Hand and bottle
I'm really happy with how the bottle/hand turned out. As you know, I was unsure if I could pull off the complicated bottle (as I describe in my last post). It certainly helped to think it through before I put the brush in my hand. The trickiest part of it was that condensation on the top left of the bottle. Dipping the tip of the brush into titanium and then into the purplish cola color (without mixing the two), I stippled it in. The paint underneath was wet, so it worked perfectly; mixing into the layer beneath somewhat, but leaving very subtle "highlights" and "shadows" of an occasional miniscule droplet. It went on in seconds. Fortunately, I didn't overwork it and wound up with exactly the effect I was going for. I think it reads: "hot summer day/cold bottle" because of it.
Also you might notice that the two main highlights on the bottle are different colors and temps. (I'm referring to the linear highlight on the top back of the bottle and the one closer to us which points toward the "C" in "RC".) The one on top is a cool, pale blue (giving us a sense of the bottle receding). The other one is a warm yellow, bringing that part of the bottle "forward". This is method. If you put some time into practicing it, you will find dimension in your work you never dreamed you could achieve.
Another point of interest is the very subtle reflection of the thumb and parts of the hand on the lower part of the bottle. Value was important here, since that part of the bottle is receding. If the thumb had been higher up (on a plane closer to us), that reflection might've been brighter.
One last thing about that bottle ... the ellipses. That ellipse at the base of the bottle should match the ellipse at its mouth. Some students have a heck of a time wrapping that around their brain, so I thought it was worth mentioning. Any cylindrical shape (or sphere, for that matter) can be broken down into of a series of ellipses, from the bottom to the top. In a symmetrical cylinder (most machine-made objects are symmetrical), that ellipse shape
never
changes within the cylinder. In other words, those ellipses will stay relative to each other no matter how you position the cylindrical object. If you imagine a series of adjacent rings, beginning at the base of the bottle all the way up to the mouth, those rings will have the same shape. As the bottle narrows toward the mouth, those rings get smaller, but they stay the same shape. You can loosely use that principle when drawing fingers, legs, the torso, the neck, etc. (which are basically cylinders), but they are not perfectly symmetrical. Just something to keep in mind.
I think the hand turned out well. I'm always tempted to overpaint them just because I enjoy them so much, but I showed a little restraint, keeping detail to a minimum so it wouldn't distract from my focal point (the face). Parts of the fingers can be seen through the clear part of the bottle. It was important to show even less detail there. The values had to be adjusted there, too, since we're seeing them through two layers of glass.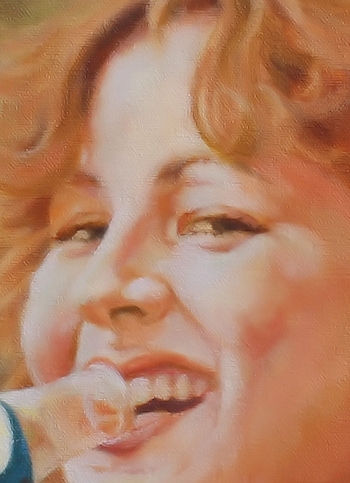 Face planes using method
Not sure if you can see clearly in the pic above what I'm about to describe. Depends on your monitor, I guess. Those cool (pale blue) planes of the face that are receiving direct light (from the left) appeared flat until now. I added a bit of warm paint (
same value
as the blue) in the parts of those planes that are closest to us. Look at the forehead. The left side of it (the receding part of the plane) is the pale blue that was already there. In order to give that plane dimension, I added a brushstroke or two of a warm, pale yellowish-peach over the right side of the forehead (the part of it that's coming toward us). Btw, I always leave this phase of painting for the very end (after it's dry) so applying opposte temps/colors over it won't mix into what's beneath. As you know, if that pale blue were wet, adding yellow would turn it a ghastly green.
Now look at the part of her cheek receiving direct light (under the right eye and right of the nose). That plane has dimension now, because I changed temp in the part closest to us, exactly the same principle (and color/temp) as was used on the forehead. That method is used on every plane in the painting that is receiving direct light; even on the straight of the nose, nostril, fingers - everything. The only thing different in how I applied the method to the straight of the nose is that the plane there is much narrower (as it quickly contours away from the direct light). The forehead and cheek planes are wider, contouring more gradually away from the light.
The method is also applied in shadowed areas
(using the opposite temp from what exists). In this case, my shadows in general are warm (to contrast the cool directly-lit parts). Since
this method uses temperature opposites
to achieve plane dimension, areas of my shadows that are coming forward are painted cool (same value). Your deep shadows should remain relatively flat, though, with little detail. (NOTE: I should mention that I'm treating my light source as cool in this particular painting. If you use a warm as your light source, everything will be
exactly the opposite
as I've done here. Just keep in mind
opposite temps
and you'll do fine.
Observation is key in being able to use this method to its fullest. The most important element is being able to
identify the planes
of the subject. If your subject is a box, the planes are obvious. The boundaries of planes within rounded, curvy objects (e.g., figures) aren't always obvious, but they can be broken down into box-like planes (Iron Man style). Light strength can play a big part in determining planes for you (unless your subject has a pinpoint spotlight on it). Diffused light (as it was for this project), can make it difficult to isolate the planes, though. It's a good practice to take a photo of your subject and convert it to black and white. Play with the contrast. Those gradations (transitions) between planes become more apparent.
I'm very happy with how this turned out. I didn't hesitate to acknowledge my mistakes along the way and neither should you. Use those mistakes. Learn to recognize what is working and what isn't. Hold it up to the light. Analyze. One of my favorite quotes was written by a rabbi: "Doubt is the handmaiden of truth". While it was intended to encourage his flock to use the power of doubt to test belief, it can also be a powerful tool in working through a painting or anything else. Don't give up! There's always a solution. If you get stuck, don't hesitate to ask questions.
A few of you suggested that I make the photos of the painting in progress larger. Since this blog format wouldn't allow for that, I'm thinking about making the whole thing full-page size on my LESSONS pages (since I'm taking a hiatus from in-the-flesh teaching). If I get enough feedback from you, I'll take some time and do that for the next project. In the meantime, thanks for your comments and questions and a special tip of my hat to those of you who painted along (using your own ref pix). That was
virtually cool, man
. Send me pix of what
you
did.
MAR 13, 2015: For those of you closely following the progress of this painting, I apologize for the delay. My attention was diverted away from this project for a bit, but I'm back to it.
Here's a detail of the painting to show how I've worked into the skin tone some Holbein olive green. It perfectly complements the pinkishness that's prevalent across that left (front facing) plane of the face. It's also
very
warm which helps with the overall temperature harmony of the piece.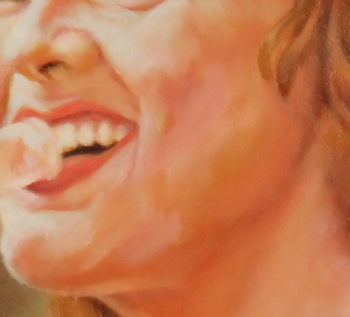 Adding warm olive into skin tone.
It's a little difficult to see at this scale, but I've worked in some random fly-away hairs against the background. Wish you could see it in person. It, in addition to capturing that mischievous, sly look in her eye, has contributed so much to the wild, candid nature of the piece that I was going for. I couldn't be happier to see that develop.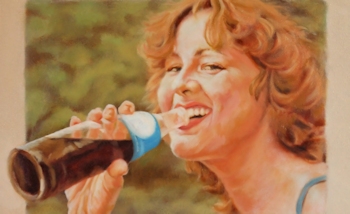 Brown painting at 90%
I'm also working the hand and bottle quite a bit, carrying that facial olive color into both. The bottle is
very
interesting to paint. There is reflection and light from every direction, each varying in value and color intensity. There is also condensation on the top left of the bottle which I'll tackle next. It's odd in every way. It's picking up direct light, yet it's relatively dull. It's water, so what's beneath should be seen somewhat. It shouldn't appear solid, yet it's in light. Quite a challenge. It's a small thing, but I think that that condensation is important to get right, because it will add a visceral dimension to the piece.
Any time you include something in your painting that appeals to the four other senses (other than sight), you are extending your reach through the canvas, affecting the viewer in a more 3D, human way
. In this case, if the viewer sees frost on the bottle, it will read: "warm day, cold bottle" which will support the fleeting nature of the piece. If we are to believe the Brown girl has been running around enjoying the summer air, we need to "set the environment" in as many ways as possible. The neck of the bottle is even a bit frosty inside as she brings her mouth (and warm breath) up to it. It's little things like that that can truly engage a viewer.
I had planned on understating the "RC" label (since they're not paying me to advertise for them ;), but that blue color is in the same family as the strap on her shoulder. This can be a nice composition tool (to help bind the figure to the hand/bottle). It also will make for a good accent color which will assist the painting's "big shape" appeal (see Jan 29 post).
A note about painting teeth: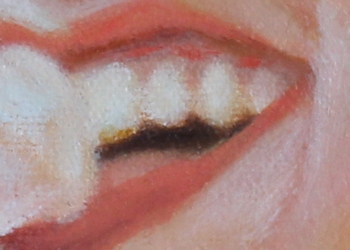 Painting teeth
If you think of teeth as just another 3D element of the figure, you'll do just fine. The mistake beginners make is to make them appear flat, solid and
way
too white. How many people do you know who have truly
white
teeth? Often the light is coming from above and maybe even at an angle. Whatever planes you light on the face, hands, neck, etc., will exactly follow the planes of the teeth. Don't shy away from teeth. They define a person as much as the eyes. But don't make them more prominent than any other part of the face either. Some of the teeth will most likely be receiving less light than others (especially the ones going back into the mouth and the lower teeth). Another mistake beginners tend to make is that they make too much of a deal of tooth separation. Most teeth are close together. Whatever shadow appears between them is usually shallow and uneventful, sometimes not following the full side of the tooth. Some teeth overlap a little or a lot. Depending on the direction of the light, it will cast a subtle shadow onto the adjacent tooth. If the light is coming from above, there might be a subtle highlight at the tops of the teeth (unless the upper lip is casting a shadow onto them). Some teeth are sort of round in dimension, some are skinny (flat). But they
all
have dimension of some kind, so keep that in mind. Bottom line: observe!
Next time: Finishing up the bottle and applying a temp change brushstroke here and there to give those lit planes more dimension.
MAR 1, 2015: As you can see from the dates of these posts, I'm taking my time with this one ... because I
can
. No due date is a real luxury. I've spent some time on the hands and bottle and made those proportion corrections to the upper head. As it turns out, the eyebrow
was
almost imperceptibly too high as was the top of the forehead hairline. Lowering those just a smidge helped to define that subtle, relaxed, mischievous expression I was looking for.
So
glad I didn't have to move that right eye!
I also noticed something else that got by me before: the chin is jutting forward slightly! It's ever so subtle, but in the photo you can see that she is preparing to take a sip, still smiling, but just about to put her lips around the bottle opening, moving her jaw forward as part of that action. Totally missed it before. (Scroll down a bit to compare to the pic from last session.) Pushing that jaw forward a tad has helped to make the overall image appear more candid. Before, she was just too Breck-girly or, at best, a model doing an RC ad. Now it's coming together.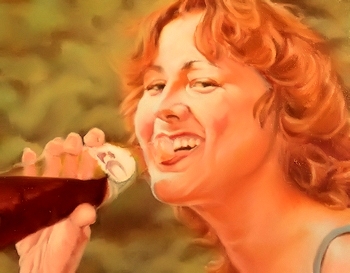 Likeness adjustments, fleshing the fingers, filling the bottle
I was also able to make very subtle warming corrections to those semi-shadowed areas of the face. It creates a better contrast to the very cool lit areas, giving the whole head greater dimension. I darkened the hair a bit and softened some edges toward the back to give focus where it belongs (toward the face). I'm very happy with how the fingers are taking shape now. The position of them is a bit tricky (each finger's first joint is foreshortened except the pinky), but I love painting fingers and toes, so it came together quickly. Had to widen the base of her palm just a little, too. I've also defined the trapezius muscle leading to her shoulder joint in the foreground with my bluish-opaque direct light paint.
We're very near done now ("we" - heh). Next time I'll be honing the light on those fingers and bottle and finishing up the hair, putting a few more fuzzy locks into the mix to make it appear more wild. I'll put a warm brushstroke or two here and there in the directly lit areas to make the parts of those planes closest to us come forward. The last thing will be to indicate her hazel-colored eyes in what little of the iris we see and then apply her mascara. I'll miss working on this one, to be sure. It's rare when I get a commission image that's so much fun to work from.
FEB 13, 2015: The last few days I've worked the hair and background. Since the fine outer ends of the hair overlap that background, it's good to work them while they're both still flexible (wet). I'll have to go back in later and darken parts of the hair that aren't being directly lit and soften some edges, but I wanted to get those shapes in there right now. I'll also need to use my dimension method (warm vs. cool) to make parts of the hair come forward and other parts recede. This will establish the roundness of the sphere-like shape of her head. I have a few more pressing concerns now, though.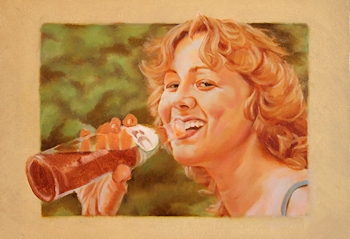 hair meets background
For one thing, I feel as though I've lost the warmth of those semi-shadowed areas around her face. I've tried to avoid anything brownish (which ages her), but that means I have less Indian Yellow in those mixes (which is one of the warmest paints I've ever come across). The mixes have been predominantly in the red spectrum (Transparent Red Iron Oxide and Terra Rosa). Both of these paints tend to dry coolish (to my eye) which is not allowing for enough temperature contrast between the lit areas and the shadowed. It's also partly due to the fact that Terra Rosa is not transparent. I don't want to pile more paint on the face, though, and completely obscure that color-glazed underpainting. I'll figure out something.
Another thing that's eating at me is that, even though I've tested proportion ratios, something's off. Not sure if the top of the head and eyebrows are too high or if that right eye (as we see it) is too low. Say it ain't so. It's one thing to correct position of an eyebrow or the profile of a nose, but to move a whole eye is a major undertaking. The thing is, her expression is not quite right because of this. My main goal with this painting was to capture that playful, mischievous look in her eye. That subtle expression is partly created by the proximity of the eyebrows ito the eyes. If the eyebrows appear raised at all (as they do at this point), it changes that expression into something else. The relaxed brow and slitty eyes create the slyness. I need to work this out pronto. She looks too much like a Breck girl. I need her wilder, as if she'd been running around being goofy and stopped for a second to get a cool drink.
In working the background more, I think, too, I may have cut into her chin too much. If you refer back to the photo (scroll down), you'll see she has a rounded chin. We're also seeing the underside of that chin just a little since the photographer was aiming up at her slightly. The jawline is also too defined, aging her into her 20s again. I've found that obvious turns of the head, up, down or sideways, are way easier to get right than very slight turns.
I don't think it will take much to correct these things, but I do have to adjust it if I want the likeness to be right. Today, in addition to those adjustments, I'll finally get to that bottle and the fingers. Once I'm past that, I'll finish up my plane dimension temps, mass-in that border and it will be done.
FEB 7, 2015: The progress you'll see from here on in will be subtle and in small increments. Yesterday I smoothed those brushstrokes (normally I like it brushstrokey, but the younger the subject, the more difficult it is to pull off). I made a color/temp correction to that under-chin and neck shadow and started working the hair a little. I've also begun the process of pulling the background color into the foreground via the reflected light under the chin and the left edge of the neck. It's also present as the plane recedes on the left cheek, the far side of the nose, etc. (although I'm afraid it's difficult to discern in this photo). Trust me, it's greenish. In any case, it's the beginnings of creating the illusion of plane dimension.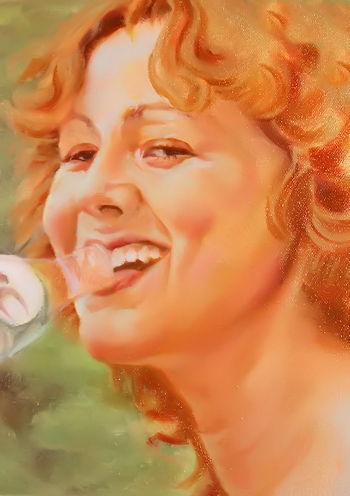 Brushstroke smoothing, shadow color correction, reflected light, hair
I've always found that "pulling" color from one object into another, in this case from one plane to another, in a painting helps to make the piece more cohesive. Everything that exists amounts to a collection of molecules, as you know, so if you think of some of those molecules as being reflective, it would make sense that objects within any given setting would share certain properties. It can be applied in an obvious way or not, but it does seem to work, especially in a 2D medium.
If you've been following this painting from the beginning, you'll see that I don't deal with likeness much until toward the latter part of the painting. I concentrate on the overall harmony of the painting's elements, making proportion adjustments as I go. Some of you may go about it another way, but this works for me. As you work in your masses, your drawing gets obscured to some degree, so I don't fret much about it early on.
It's all still pretty 2D at this point. Once these layers dry, I'll add more dimension to those planes. Next time, though, I'll continue to work the hair and background, then move to the bottle and fine tune the fingers.
FEB 6, 2015: Btw, thanks to those of you who have taken the time to comment on this column. I'm really glad you're learning so much. Some of you are painting along with me using your own photos. You can always email questions along the way, you know.
I received some new paint yesterday that had been on backorder so I'm a happy camper to be using those Holbeins again. Makes a huge difference to invest in decent paint.
Here's the painting at about 30 percent now. I've tackled some of those semi-shadowed side-of-the-face issues that I mentioned before. I'm not so keen on the hue I used as shadow at the base of the chin and down the neck, though. Too brown. Ack. My light was waning yesterday afternoon and I wasn't getting an accurate read on my color. (I only paint in ambient daylight, because that's the light the painting will most likely be seen in). So I'll have to warm it up today and make it more rosy. The planes of the face are coming together pretty well now, though, I think.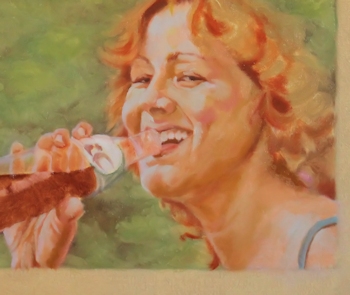 Working with subtlely lit areas
Once I get those planes well established with color and value, I'll work the bottle, the hair, iris definition, finish the background and border then add the final dimension temps (which will be explained when the time comes). That last layer of paint will be pretty "fat" (with oil). Not only will that allow the paint to "stick" to the layers beneath ("fat over lean" rule), it will also allow me to do some fine-tune sculpting on those contours (transitions between planes). As it is now, she looks way older than she is in the photo. That's mostly due to that brownish color under the chin and also because of the sort of angular shapes that have been formed by the brushstrokes. I'll "pink it up" and soften those brushstroke edges which will round her out and bring her back to the 16-year-old she is in the photo. Wish that came in a bottle ;)
FEB 4, 2015: Comparing to the last post, you can see I've begun to introduce opaques. In fact, I decided to begin them by cutting in that strong, direct light on the face and hands. I used a titanium/burnt umber/veridian mix full-strength (not glazed) in those areas that are being saturated by the light. The light will go one step higher for the highest highlights toward the end of painting, but I wanted to work my way "down" to the mid-values from this point. (It always looks odd when you see it at this stage, kind of washed out, but once I get that colorful 3-point mid-value range in, it will bring her back to life.)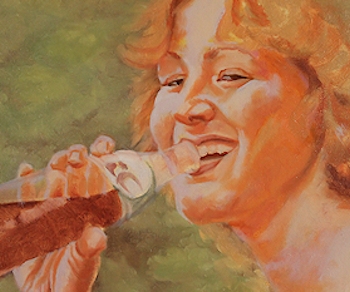 Brown closeup introducing opaques in light
Today I'll be working in those mid-values using slightly glazed opaques so that the color underpainting can subtlely show through. The side of the face closest to us will be tricky (value-wise) since it is not in direct light, but it is not in dark shadow either. This is always the case when painting anything that is being lit outside. There is always ambient light being reflected down from the sky (particles in the atmosphere being lit). It should be treated as a second light source however subtle it may be. In this case, there seems to be quite a lot of ambient light (which is normal on humid summer days as it appears to be here).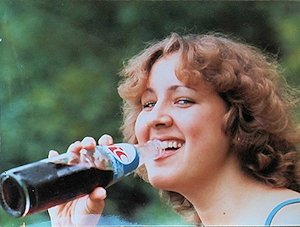 Brown reference photo
In general, that side of the face will be treated as a "shadow mass" compared to the parts of the face that are receiving the direct light. That shadow mass will be painted relatively warm while the parts in direct light will be cool. I made that temp choice (cool light/warm shadow) before beginning work on the piece, since the light appeared to be diffused (sunlight filtered through thin clouds). But there are subtle contours on that side of the face, like the dimple, the smile muscles on the cheek near the eye, the jawline, the fold of the skin next to the mouth, the vertical and horizontal turns of the chin, etc. The parts of those contours that are receiving that ambient light will be somewhat cool and opaque, but will have warm transparents blended into them. It's areas like these that take a lot of practice for those of you who are just starting out. The most important thing to get right in those tricky areas, though, is value.
JAN 30, 2015: As I mentioned in the last post, I've begun the underpainting process of building layers of transparent color into the skin. A coolish transparent yellow is used on the forehead since there is relatively little bloodflow there as well as the bridge of the nose. The cheeks and lips, of course, get lots of circulation, so I've added rich Indian Yellow and Red Iron Oxide there and other places like it. (One day, I'd like to draw a map of how exterior body temperature differs within the face, neck and other parts of the body. That would help guide my underpainting color choices.) I've put a smattering of subtle, pale greens, blues and magentas in areas that I think might be relatively cool (body temp-wise). All this while trying to keep my final values in mind. Here's a closeup. (The whole painting at this stage is shown below that.)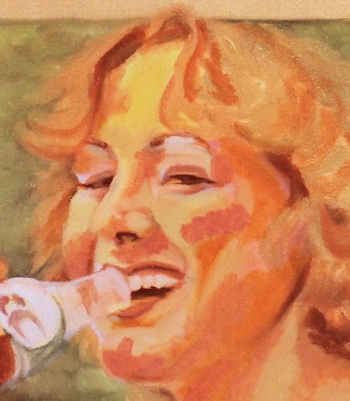 Brown painting color glaze underpainting
I find myself scratching my head trying to discern those subtle undertone colors from the photo, but I know enough about anatomy to wing it. Next time I get someone to model for me, I'll be able to see it better and continue to experiment. (Note to self: Do
not
ask John Boehner to sit for me.) In the meantime, as blotchy as it appears, I feel confident that these color glazes will work very well in the end, especially in local color areas. The key will be in adding the final layers of opaque mixtures over it. Those opaques will have to be partly glazed for the underpainting to register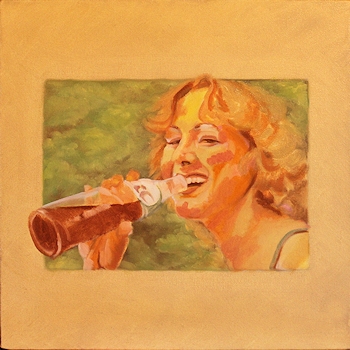 Brown painting at about 15 percent
As a side note, I thought I'd mention this so you won't make the same mistake I just did. After setting the image (mostly of the figure), I started painting the liquid in the RC bottle. I noticed immediately that it was not
level
in the photo. How could that be?? It
has
to be! After looking at it closely, I realized that I had been working from a photo that had been cut out of a larger picture and was not perfectly square. I had placed it on my reference board according to the level of the top of the pic. I should have tilted it to match the level of the liquid in the bottle, but I didn't notice it until I had my proportioning painted in and set. Duh. So instead of adjusting the whole image in the painting (which would've been very difficult at that point) I just changed the level of the liquid so it wouldn't read funny. I'll only have to fake in a little bit of what we'd be seeing through the clear part of the bottle. This problem was relatively insignificant, but it's the kind of thing that people would look at and know something's wrong, not knowing what. Glad I caught it before using opaques. It's funny. Looking back on my sketches, I was instinctively trying to correct it, but wasn't conscious of the problem it would pose for the overall placement of the image. Yet another reason to paint from life when at all possible, right?
I'll need to allow these layers to dry completely before adding more, so check back toward the end of next week for the next post. Btw, please let me know if the photos on the blog or anywhere else on my site don't seem to load right. I write the code that creates these pages and may need to make adjustments to suit certain browsers occasionally. If you have any questions as you see these paintings develop, feel free to email them to me.
JAN 29, 2015: I'm approaching this painting differently. The plan for my "big shape" here (a term referring to how the most general shapes appear from a distance) is to use a warm temp for the border and allow the image to relatively recede. The theory is that the warm border will come forward for the viewer, hopefully allowing the image to be "discovered inside", like opening a box to reveal the contents.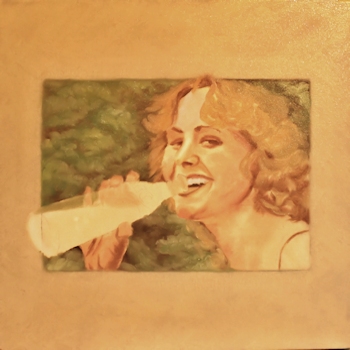 Brown painting 10 percent done
This is the first layer of paint. I made a conscious decision to
not
do a value study (monochrome lights and darks) for my underpainting this time. Instead, using transparent color, I'll be working the mid-range values until the drawing and shapes are set, then imposing the darkest values (transparent as well).
The idea is to essentially build color glazes to simulate skin depth. That will create a sturdy foundation for the opaques (where the light is strongest). I don't think I've consciously used layers of transparent glazes for color masses before, so this will help me evolve whether it's successful or not. Before this painting, I had only used Rembrandt-y glazes for the deepest values (where there is no light), creating the depth of "space". This time, I am building glazes for depth in light.
The parts of the image which are not being modified by light or shadow (the local color) should benefit most by this. By building various colors of skin tone (rich, but pale greens, blues, peaches, yellows, magentas, etc.), I hope to simulate the translucency of skin. When you look at your own skin, you don't see one color. The surface skin "color" varies greatly, depending on what's beneath it. Blood, bone, fat, muscle all contribute to skin tone and it varies throughout the body. I intend to explore this with glee.
JAN 16, 2015: This is a new "commission". I put that in quotes, because although it's a custom painting, it's a freebie. Pam Brown of Mora won the "free custom painting" drawing out of hundreds of entries submitted during my 7-month "Still Done by Hand" tour last year. I have to say, I am
so
excited to do this one.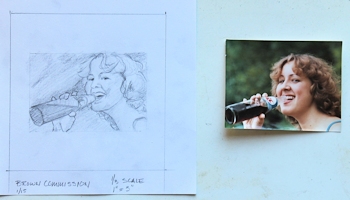 Brown thumbnail sketch (1:3 scale) with ref pic
Pam was very receptive to my suggestions in choosing reference photos for this. I always give my best pitch to clients, but most often people have a preconceived idea of what a portrait should look like ... toothy grin, facing forward, hands folded neatly in lap, etc., etc. While an image like that looks just fine in a photo, having a painting of it on the wall is redundant at best, subject to comparison of the photo which is normally framed on the coffee table below it. I urge people to choose more active,
lasting
, candid views of their subjects, but I guess for some it just seems too "out of the box". Not this time. Pam came up with this great photo of herself when she was 16. Here's my first sketch:
Brown sketch (1:1 scale)
The painting will be on an 18" square profile canvas (a canvas that wraps around the sides, requiring no frame). I'll paint a relatively large border outside the image (and around the side). It's a little difficult to see on this scale, but there is a fine rectangular line that surrounds the image. That will be where the border begins. The idea is to contemporize the image a bit, giving it plenty of "invitation" space for the viewer. Without the border, the painting would be too portraity. I like adding geometrics to my work, too, so it will serve two purposes.
The thing that I'm most excited about, though, is the sort of mischievous look in her eyes. I haven't quite captured that in the sketch, but I hope to focus on that in the painting. Otherwise, as cute as it is, it would just look like an ad for RC.
The next NOTES entry will show the first layers of paint. Stay tuned.
DEC 26, 2014: Here's the other Christmas-deadline commission. I used it for my holiday ecard this year along with a poem I wrote.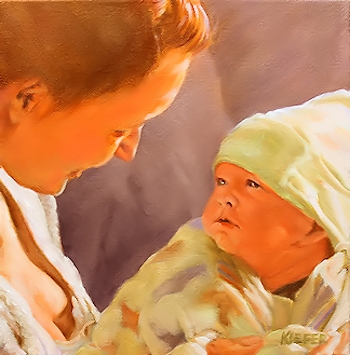 There is an earlier version of this if you scroll down. Originally I painted this for myself to show and possibly sell, but the woman (a dear friend) who sent me the reference photo that I used for this, along with her two sisters, decided to buy it as a gift for the woman featured in the painting (their niece, pictured below after first receiving it on Christmas morning).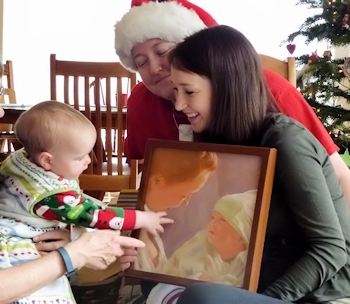 (left to right)
Grandma, Georgia, Tara and Gretchen
I really enjoyed painting this one. There was something very Vermeer about it, the way the light was pouring in on the two of them. As I mentioned before, it's so easy to make a baby look like Edward G. Robinson just by making the shadows too dark. It was tricky, but I think I managed it okay. I love how the baby is looking directly into the eyes of his mother. That's pretty rare. Normally they're looking into space which looks cute in a photo, but doesn't make for a good painting. It makes the baby seem retarded and usually messes with the composition (the viewer's eye tends to follow the direction of the subject's gaze).
I was hoping to play around with a glazy layer or two over the whole painting to try to capture the haziness of the atmosphere that appears in the photo, as if they were being bathed in the warmth of the sunlit humidity in the air, but when I learned that the sisters wanted it for Christmas, I didn't want to tamper with the main image in case my experiment didn't work out. They told me they all really enjoyed it. That's all that matters.
DEC 17, 2014: Here's the Casavant commission that you may have been following since the first sketch. It's now complete. One of the biggest challenges was the direction of the light in the piece. The direct light is coming from overhead (no doubt an overcast day). That caused the major highlights to appear on the figures' foreheads and noses, leaving the eyes and teeth in relative shadow. Even the whites of the eyes were in shadow. I like the effect, though. It's just that the eyes are normally the anchor of a figure painting. In the case of the mother, we barely see the definition of her iris. Her face is so animated, though, that it works despite that.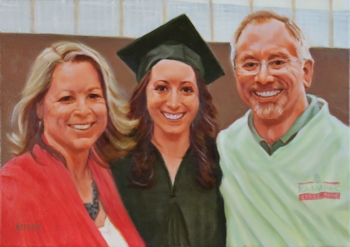 Casavant Commission Complete
Averaging the skin tones on the three figures was a good idea, I think. If I had painted the young woman's face in that pale pinkish color as it appeared in the photo, it would have looked odd compared to the parents' warmer tones. Ever so slightly tilting her head to the right and downward (compared to my earlier versions) seemed to work, too, even though it's very subtle.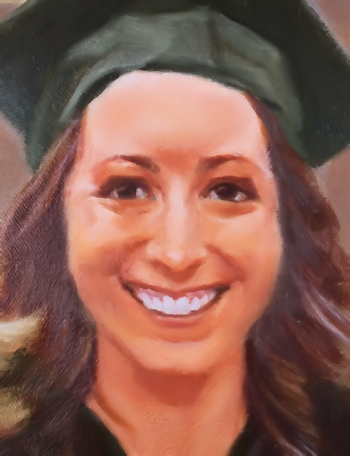 I had to leave out the highest highlights (which were a very pale purple) on her forehead and upper cheeks, because every time I painted them in, it looked too intense and aged her. I used a pale peachy color instead.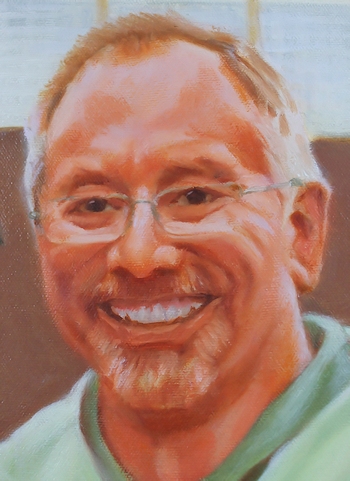 The father (my client) turned out quite well, I think. There are subtleties in the planes of the face that were tricky, but I think I managed to get those values relative to the highlight.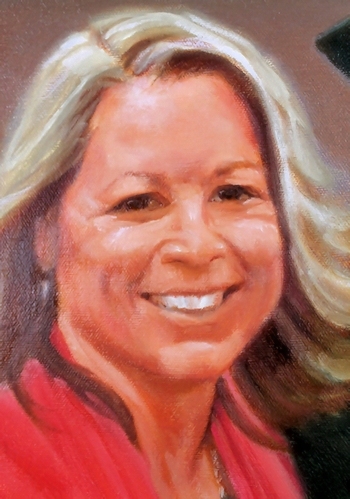 I like the brushwork on the mother. In this case, that pale purple I used for the highest highlights worked very well on the cheeks and nose as it did on the father. Fortunately, the daughter, without those highlights, is positioned between them. The lighting I used on the parents set a convention. The viewer accepts the intensity and quality of the light on them and, subconsciously, fills that in on the daughter. If she had been on the end, it might have not worked so well.
All in all, I'm very content with how this one turned out. I had concerns about the grinning forward-facing figures, especially on this small canvas (14 x 20), but those early sketches I did before painting proved valuable. I think, after all, the image will wear pretty well on the wall. This piece will be a Christmas gift from the father and mother to the daughter.
The other commission I did for the Christmas deadline is also complete. I'll post a pic of it next time.
DEC 2, 2014 Here's the Casavant painting at about 85% done. If you compare to the previous post, you can see that the main color blocks are being worked in slowly. I didn't want to have solid, bold colors dominate the figures' faces. In the photograph, the mother's jacket is
very
bright red, so I have introduced the color in a muted and less saturated way. Toward the end, I'll indicate that vivid red here and there near her face to draw attention to that area.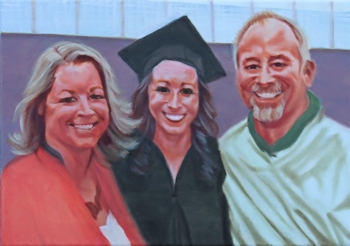 The likenesses are being honed as well. I think I've corrected the girl's head position to some degree. Slight turns of the head can be way more difficult to achieve than distinct quarter or profile turns. The subtleties in contours are very tricky to get right from that perspective. In this case, I think it will be worth the effort, because it indicates a personality trait: that she's a humble, nice person. If I had left her head straight on, she would've appeared overly confident, sort of "in your face". If you haven't worked with figures much, small things like that can make the difference between an "okay" painting and a good one. I still need to point it up a little bit more, though.
You can see that I've begun working local color into the skin tone, mostly on the mother at this point. The daughter's face is way paler than her parents' skin, pinker in fact, so I'm toying with the idea of pulling some color from the parents' faces into hers to make the overall image more cohesive. (Discrepancies like that work fine in photos, but need to be dealt with in a painting.)
I've also begun blocking in the teeth. Teeth are very difficult to paint in general. Normally, a stroke of off white here and there is sufficient, but the teeth are as dominant as the eyes in this piece. I try to dissuade my clients from choosing subjects like this (I discuss the reasons why in my Oct 5 post), but this was an exception due to the elevated nature of the occasion (graduation). The thing is, though, the smiles are so broad here that some of the bottom teeth are showing as well. I'll "dim" the gloss on those lower teeth today so that they'll "recede" from the uppers. What complicates them more, is that the main light is from directly above. There are actually highlights on the tops of the teeth where the mouth isn't shading them. Not sure I'll make much of a deal about that. Maybe just an indication. I do want to get it right, though, because the three of them were
very
happy that day, and for good reason.
It is coming together nicely, I think, though. I've spent some time working on the frame as well, drawing its color from color found in the painting. A couple more days of work on the figures and it will be done.
NOV 10, 2014 I've spent a few days preparing the frames for both the Casavant piece and another commission. Both will be going out as Chrismas presents, so I needed to get those going. You saw previously the Casavant image beginning to take shape. The entirety of the surface was given a coat of transparent oils with hints of neutral versions of color in the masses. Here, I work the likenesses a bit more and start to build the shadows up from those darkest darks (still transparent).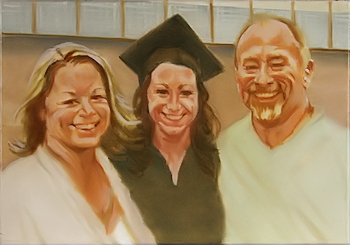 I also decided to toy with the figures' highest highlights in order to see what my "value range" (the extent of lights and darks) will be within the figures. This will help me to know what value the local color (actual color without being modified by direct light or shadow) of the flesh and clothing will be. I can see that the light I applied to the girl's chin is way too bright, so I'll have to tone that down before it dries. Her likeness isn't quite right either. Her head is ever so slightly tilted to the right and down in the photo. It's very subtle, but it's very nice and conveys a bit of sweetness which is missing here. Her head shape is more diamond-shaped than I have it, too. Once I have those subtleties worked in, her likeness will fall in place.
OCT 30, 2014 In the previous post, you saw painting on the Casavant commission begin. The general image was "cartooned" in with warm transparents. After that dried, I started blocking in the main masses in the piece, covering the entirety of the canvas with somewhat neutral paint.
I decided that the piece would do well to have some kind of a geometric in the background, so I have included a very rough indication of the structure behind them. It will have no overall prominence, but it may help to give the contours of the figures some variety. I will darken the area beneath it (behind the figures) with a non-descript shadow color to give the piece some depth. (I'll need to confer with Mr. Casavant about that since that hadn't been agreed to.) This phase of painting sets the tone for the finished work. A little shadow and darker skin tone color was worked in over the blocked-in masses. The next phase will start the process of building from shadow to light and begin honing likenesses.
OCT 23, 2014 You've seen the pastel sketch I did (in the previous post) of the Casavant commission. Mr. Casavant okayed the 14" x 20" dimension, so I was able to stretch the canvas and begin work.
Here is the beginning of the image in paint.
Since this is an outdoors scene on an overcast day, I decided not to tint my ground (adding a thin layer of a neutral paint over the primed canvas) this time to try to keep the lightest lights in the piece as bright as possible. The light, when painting figures outdoors (during the day, of course), is relative to the sky. If your sky (of which there is little in this piece) starts out at a certain brightness, all light on the figures must be relatively darker. The primer on the canvas gives off the brightest white there is, so even though I will cover it with oil paint, I will use transparents to allow that brightness to shine through wherever there is an indication of sky. The raw primer on the canvas is difficult to spread paint on (which is one of the purposes of the "tinted ground"), but essentially, this first layer of paint I'm using will serve as the tint. I'm using warm transparents for shadow in this first layer which will wind up being a good basis for my denser shadows in the piece. I've mostly just "cartooned" their likenesses at this point just to get general proportions within and between them. Next up, you'll see the likenesses develop slightly.
OCT 5, 2014 I guess my four semi-complete paintings (see JUL 20 post) will have to wait a while longer. I have a new commission. The "Still Done by Hand" show exhibited at the First Citizens Nat'l Bank in Mora for 5 weeks last summer. One of the loan officers from the bank was smitten with the work and, consequently, contacted me to do a commission based on a photo of his daughter's recent graduation. We are still in the consultation phase, but he is committed to the project in one form or another.
The painting will include his daughter, his wife and himself. The photo of them is a classic pic you might see in a Kodak commercial: askew graduation cap, arm-in-arm, ear-to-ear grins, all looking right at you. Those grins were not forced as you might see in a family portrait done in a photo studio, though. This was a candid shot at the site of the graduation ceremony. There is genuine pride, relief and downright glee written all over their faces.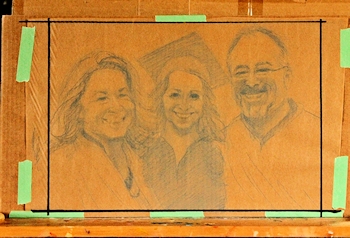 Casavant commission pastel sketch
I'm not sure how the camera was set, but after sketching the image, proportioning the heads just as they appear in the photo, I noticed that the daughter's head was way smaller than her parents'. The daughter's body is just slightly behind the parents' shoulders, but the three are touching. Somehow the camera exaggerated the distance. It looks perfectly okay in the very literal medium of photography, but I can see that I'll have to adjust her head size so that it is relative to her parents'. Otherwise she'll look like she's standing farther back from them than she actually was. That is one of many good reasons why it is better to paint from life rather than photos, but clients rarely agree to do live sittings. On the other hand, I'd never get them to recall that "glee" in my studio. Figure painters need to be vigilant to the quirks of photography. That's all there is to it.
Normally, I try to steer clients away from having me paint from photos where the subject is looking directly at the camera, especially with broad smiles. There are good reasons for this. First, it's obvious that the painting is a knockoff of a photograph (since subjects couldn't sustain a pose like that for an artist). Second, while a small photograph such as this may look wonderful on a wall, a larger version of the image in painting form will not "wear" very well over time. The grins can become visually overwhelming and "too familiar" in the room. A figurative painting as a rule should blend into the environment to some degree so that it becomes part of the inviting nature of the room overall.
I'm going to use this opportunity, though, to try to minimize that phenomenon. My plan is to concentrate the darkest darks in the facial areas and allow darks that exist elsewhere to recede comparatively. I also plan to use muted color in areas other than the heads, possibly beginning the painting in basic greys then introducing color from the faces outward. I love a challenge.
I had suggested a minimum 30" horizontal canvas. The client had a much smaller painting in mind; something in the neighborhood of 8" x 11". I explained that a rule of thumb for painted portraits is that the head size should be approximately 3/4 to 7/8 actual size. Otherwise, it would appear like a series of shrunken heads on the wall. Knowing that he preferred a smaller canvas, though, I did a series of pastel sketches of the image to try to find a good compromise. Ultimately, I found that the smallest canvas size I could get while still keeping the head sizes reasonable was a 14" x 20". The pastel above demonstrates how the image would appear on that dimension. It's not at all what I'd call ideal, it's a bit crowded in fact, but I think it will work well enough. Ironically, this smaller canvas (and smaller head size) might help temper the "imposition" of the front-facing subjects as they will appear on the wall. Having a few inches of "inviitation" space on the perimeter of the image would help it even more, but if he agrees to the 20" width, I'll commit to it and begin work.
Every single commission I've done over the years has had its challenges. This will be no exception. Keep posted to watch the painting develop. It is to be a Christmas gift for his daughter.
JUL 20, 2014 It's been awhile since I've taken time to paint. I hate when that happens, but it was inevitable. I had spent a fair amount of time (maybe 2 weeks per painting) completing the 5 "Still Done by Hand" pieces and months upon months producing the tour. The thing is, I consider none of those paintings to be show worthy. In fact, I'll be giving them away to each of the subjects when the tour finally ends on Halloween. They will have served their purpose as an advertising device. The show was designed to be a means to an end and, hopefully, that end will result in income, but now I'd truly like to get back to more passion-driven images.
Each of the next four partially-complete paintings have been sitting around my studio, glaring at me each time I come down to do
something else
. I swear I heard one of them grumble, "Just how much dust would you want me to collect for you?"
This one is the most complete, about 90% I guess.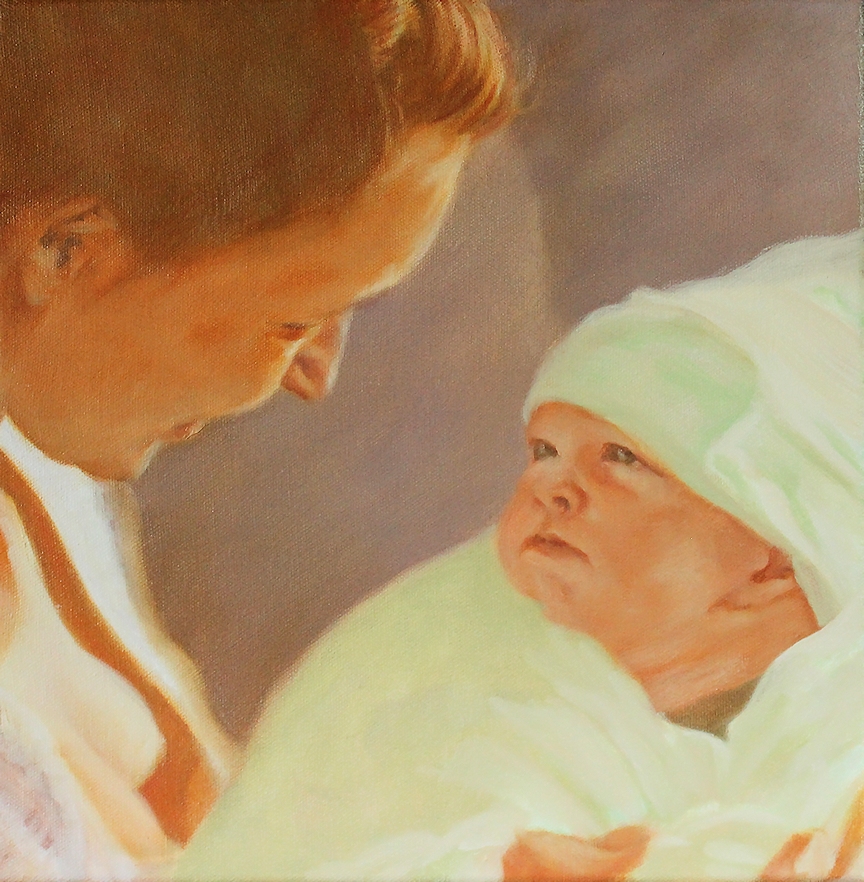 "Gretchen and Georgia" (90% complete)
I based it on a photo a dear friend of mine sent me in email of her niece and newborn. The pic was grainy, small and sort of washed out. I liked it that way. It gave the illusion that the brilliant sun coming through a nearby window was lighting the atmosphere surrrounding them. That, coupled with the direct eye contact between them, sent me to my easel. Most often, when I receive photos of babies for commissions, the baby is staring into space. That kind of thing seems to make sense in a photograph, but doesn't translate very well on canvas. Babies, in general, are somewhat difficult to get right. If you paint what you see from a photograph, the kid usually winds up looking like Edward G. Robinson. You have to use very mild, tight-valued colors in the shadowed areas. Deep shadows should only be
indicated
in the nostrils and pupils.
There is something kind of Vermeery about this image. I'm compelled to try to capture that haze (which I haven't tackled yet). My intention is to mix a very light glaze of a pale, warm purple to layer over the entirety of the painting, possibly several layers including a light layer of a cross-hatch dry brush of the same oily color. I'll post the result whether it was successful or not for those of you who might want to learn from my mistakes. ;)
I got this one to about 80% done late last winter. It's
really
growling at me. I'd been wanting to tackle it for several years and finally got it going, only to abandon it again early this spring (hussie).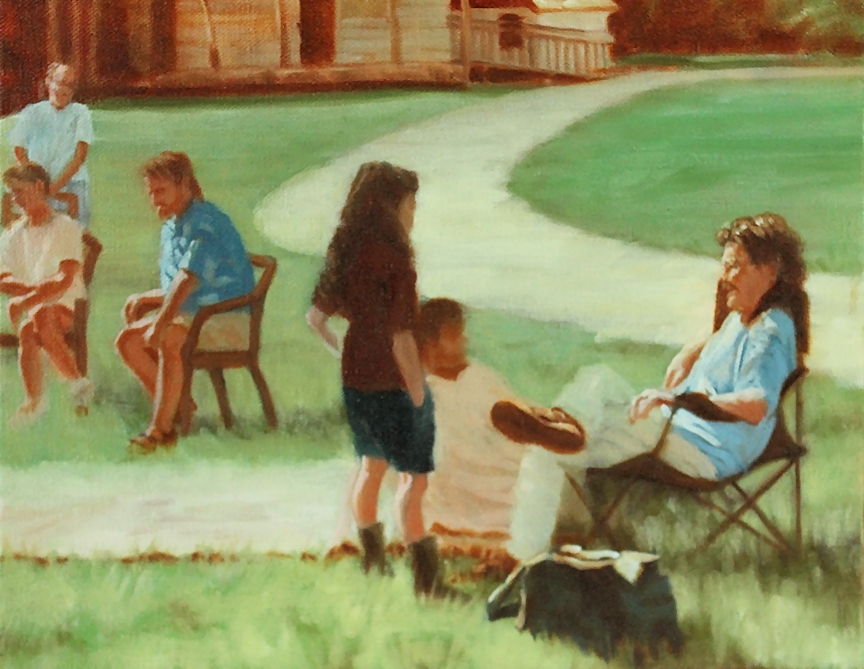 "Fiddler and Mullet" (80% complete)
This was the scene at the Annandale, MN fiddling contest, an open-air event that attracts people from every walk of life. The girl in the center is the fiddler (an amazingly gifted one at that). The person on the right (mullet man) is the husband of a good friend of mine. They are friends with the girl's family, there to celebrate her win. I was there to gawk and sneak pix as I am wont to do. I just loved the confident posture of the precocious young girl, cowgirl boots and all. While I'm not normally into "western", there was something kind of classic about her.
One of the challenges of this painting was due to the canvas size (8" x 12"). It's always difficult to try to cram method into the figures on that scale and not make the brushstrokes appear too, well, anal. The other challenge is the composition. Not sure this will pass the smell test in that regard, but I'm going to try. I'll have to undervalue the part of the path behind mullet man's head so the brightness doesn't take your eye off the right side of the canvas. Hopefully, by punching up the light on his face, the composition line will take you from the direction of his gaze toward the star of the show, around to the other, lesser points of interest and back again.
You know, now that I look at this again, it seems off balance. The girl is pulling the eye to the right, making the left half of the painting superfluous. I think I might just consider this a practice piece and, instead, do a much, much larger (tall, narrow) canvas of just the girl and mullet man. Thanks for thinking this through with me (heh-heh).
Here's one I began as a demo at the Mora Business Expo this April. It's about 11" x 15". The subjects are brother and sister (also seen in my painting "
Plan B
").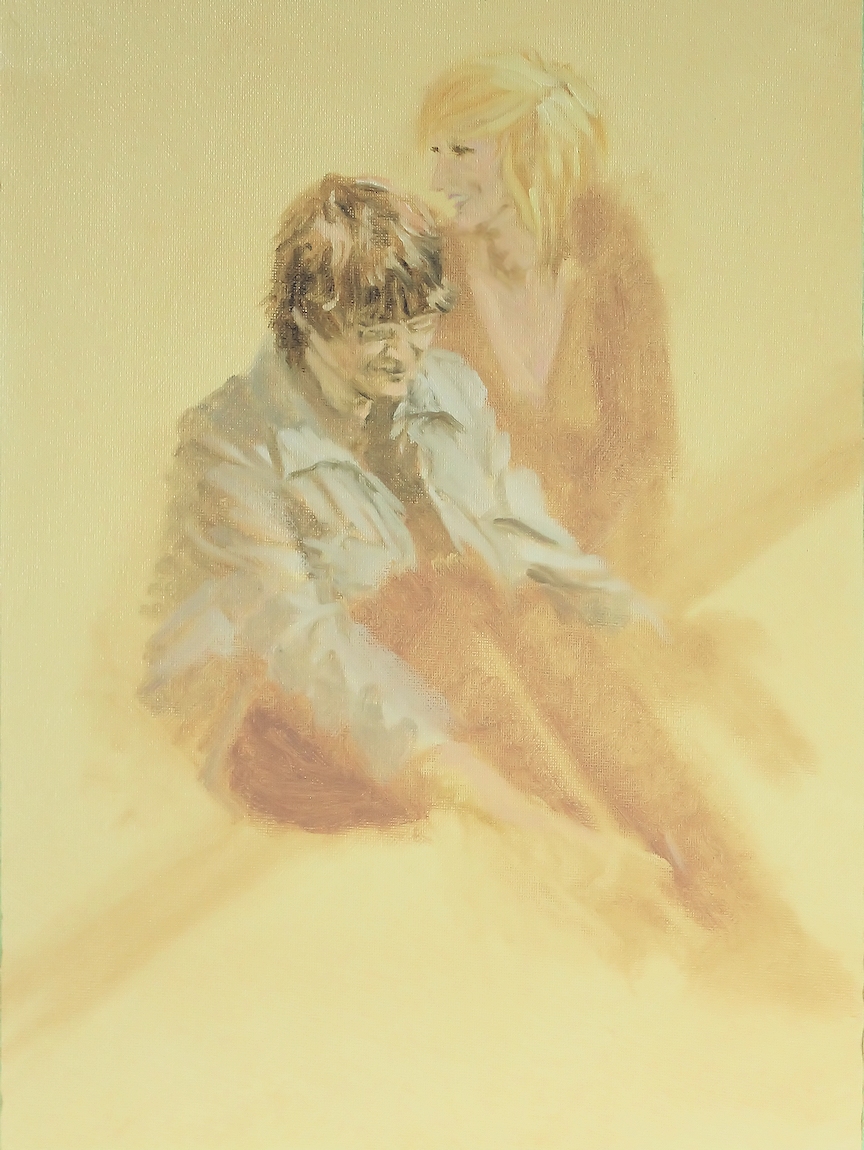 "Mason and Tessa" (50% complete)
I could leave this one pretty much the way it is, but it would be considered a "sketch" if I tried to enter it in a judged show. It most likely would be a waste of my entry fee. I intend to flesh it out to the canvas edge. The thing I like about it is the subtle expressions. The look-away slight smiles read to me as if they were sharing an inside joke. To others, it might just read as two young people smiling for no reason, but most of my paintings' themes are based on subtle expression. I lose some viewers when my work is displayed next to other artists' boldly-colored, sort of in-your-face paintings in a show, but the savvy viewers appreciate the intimacy of my work. We'll see how it goes.
The fourth of my dust-collecting paintings was also begun at that Expo last spring as a demo, same size as Mason/Tessa. The subject is a construction worker, Jim, who works with Fred Lundin (a subject in one of the "
Still Done by Hand
" paintings).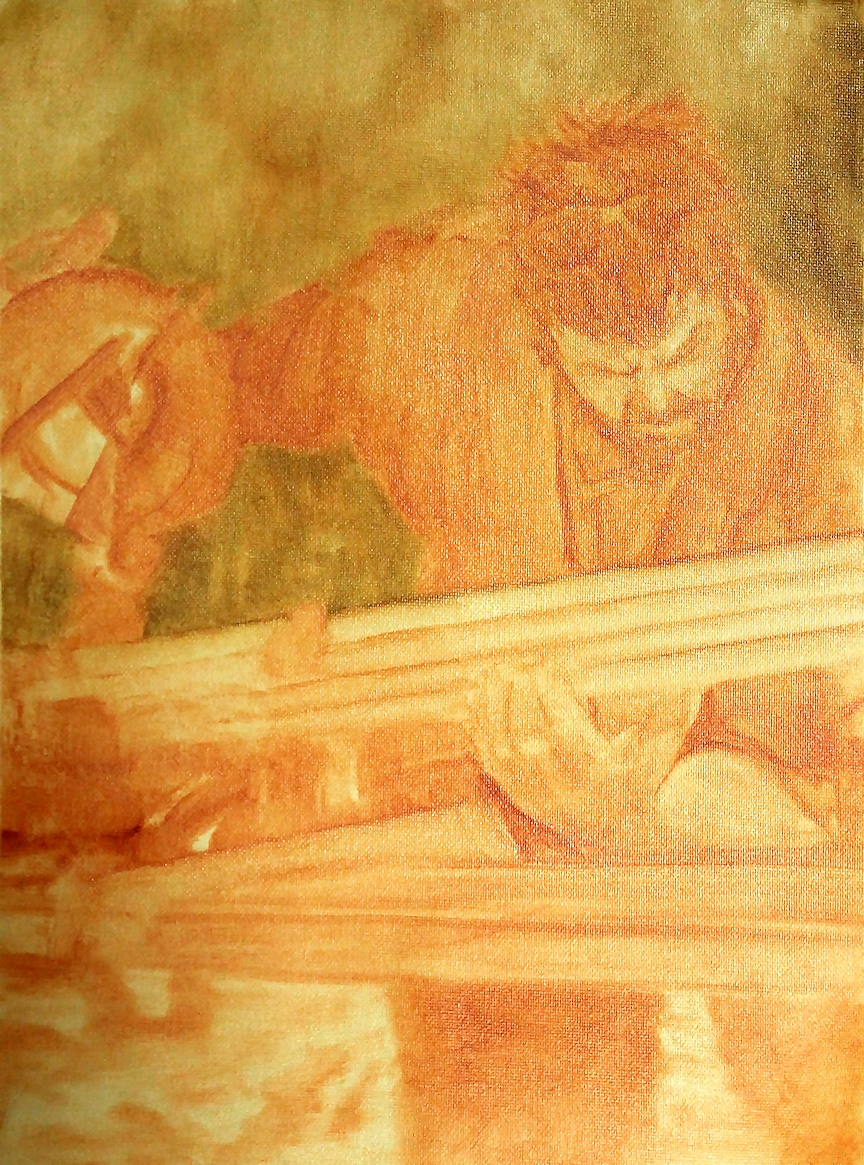 "Jim" (20% complete)
Essentially what you see here is "cartooning" (establishing proportions) and the beginnings of a "value study". I had just begun to test some color in the background when the Expo ended and it was time to pack up. This, too, will be fully fleshed out to the canvas edges when all is said and done.
My primary point of interest in this one is predictable: his face. I will emphasize the sweat glistening on his forehead as well as the muscles in his brow that illustrate his level of concentration. The perspective on the front of the face (tilted downward like this) is always a challenge (as it was in my painting called "
As a Clam
"). To make the lower part of the face appear to recede slightly I will employ the use of a "temperature" change, softer edges and less saturated color. I'm looking forward to it. All of these paintings are looking forward to it, too.
NOV 23, 2013: Here is a commission, freshly varnished, that I gave to the client just yesterday.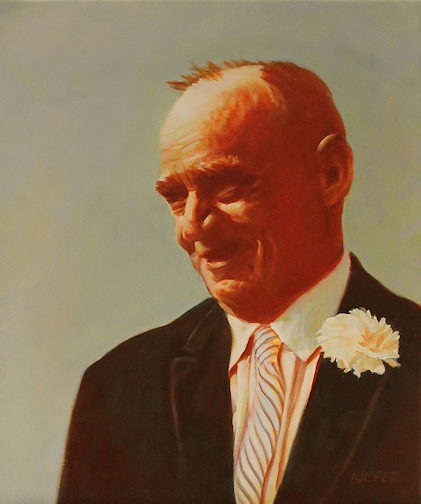 This was quite a challenge. Normally, I ask clients to supply me with at least two, preferably more, different photos of the subject. They, of course, can choose which of those they wish me to use as the subject "pose", but having other versions of the subject is always very useful. Often, even with so-called "studio" photos, coloration, shadows, expressions can be deceiving. Having other photos to compare to can solve that problem as well as give me the opportunity to "get to know" the subject better by seeing them with different expressions in particular environments. All of this information translates into a cohesive and accurate depiction of the person and the personality. In this case, the client had only one photo of the subject: a 2" x 3" black and white, framed photo of the client's departed father.
Not only was the photograph very small, but most of the key facial features were in deep shadow. In a portrait that presents the subject near actual size, the eyes are very important especially. The best I could do here was hint at pupil placement. The broad smile, as indicated by a slight highlight of a dimple in the photo, remained "toothless", since I couldn't see them at all in the stark shadow that hid them.
My solution was to keep the shadow monotone, flat and warm. In other words, "uneventful" so the viewer would focus on the lit parts of the face and chest. I used transparent warms for those shadows and opague, thick cools for the lighted areas of the painting.
They seemed to like the portrait quite a lot, so that was a relief.
The "STILL DONE BY HAND" project is on course after several lengthy delays this spring and summer. At this point, 4 of the 5 paintings are complete. Here's a peek of the completed ones: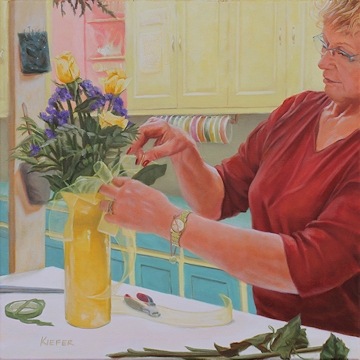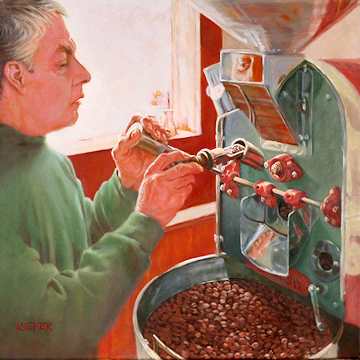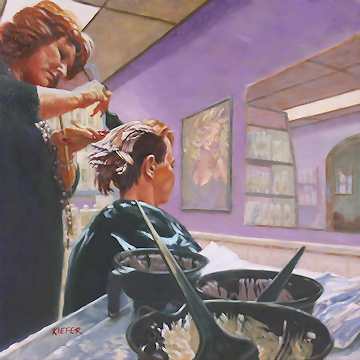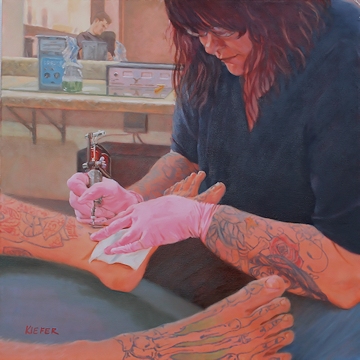 The fifth painting is underway, about 20% complete.
I was unable to schedule the photo shoot with Lundin Construction until late summer/early fall. Most of their jobs had been commercial throughout the warm months. Liability issues would have prevented my presence on the job site.
But mid-August I received a call from Mr. Lundin saying that I could photograph them building an addition to a lakeside cabin near Stanchfield. As it turned out, that particular job required the use of power tools so there was very little in the way of interesting hand positions which, of course, was important for the concept of the show. A month later, Mr. Lundin graciously offered me another opportunity to get the shots I was looking for. They were building a pole barn just a few blocks from my house! It was a stunningly beautiful morning with pristine blue sky and "mackerel" clouds. Mr. Lundin and his co-worker, Chris, were being hoisted up and down by a hydraulic "cage" which positioned them at the various levels of the tall pole barn structure. I was, of course, on the ground shooting upwards. At one point, I managed to get a shot of the two men working side by side with that vivid sky as a backdrop. The hand positions, upward perspective, contrasting light and human interaction made for a perfect composition. Here is the painting blocked in (about 20% complete):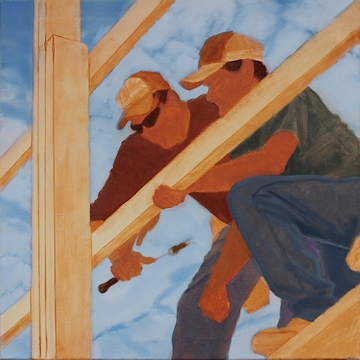 My depth of field was a bit askew, so the angles in the photo weren't perfectly accurate. I've tried to compensate for that drawing on my knowledge of fundamental perspective. One of the challenges this painting will pose is value (the gradations of light and dark). The most interesting aspect of this piece is the contrasting bright sky light to the shadowed figures. The figures should be quite dark, yet detailed (which kind of works against the method I currently use) so that the relative bright light behind them is vivid and stark. Should be interesting.
The "production" phase of the show will begin after this painting is complete and I build frames for each. I've done a little ground work already, meeting with the Director of the Mora Chamber of Commerce. She was very enthusiastic about the idea of the show and is willing to help secure venues for the mini-local-tour I plan. The tour should begin sometime in April, 2014, and end that September.
The extent of the exhibits will depend on whether or not I receive a grant to cover the costs of the tour, advertising and printing. A few weeks ago, I attended a grant workshop which is recommended for anyone who wishes to submit a grant application. My plan is to secure the tour venues, draw up a budget and submit the grant application for the February 1st deadline. The show will begin two months after receipt of the grant, if one is approved.
It is a very exciting undertaking; one I've never quite attempted before. Keeps the blood moving. More info as it develops.
SEPT 8, 2012: Well, the tour guide was full of information about Rembrandt's personal and professional history, but knew little about his painting method. She referred me to the internet. Maybe I could just try to channel him.
SEPT 3, 2012: Next week, I'll be joining several regional artists for a bus trip to the Minneapolis Institute of Arts to take in a special Rembrandt exhibit. There will be a one-hour guided tour which will be timely for me since I'm currently experimenting with a Rembrandt glazing technique.

The canvas is fairly large. My subject includes mangoes, kiwis, a plum, plate, wooden flute and incense burner. The background is very dark so I thought I'd try my hand at what I've read of Rembrandt's glazing technique to try to capture the infinite depth he managed to achieve in his paintings. I started with a fast-drying Gamblin medium mixed with a dab of a warm, transparent color. To be honest, I didn't care for the "gumminess" of the medium as I worked it into the canvas. I suppose it's manufactured that way to make it dry quicker, but it started to dry on one section of the canvas as I worked on another part. When it came to blending the mass together, it, well, wouldn't. Another problem was streaks. Even after 5 or 6 layers of the transparent paint, the streaks still showed. (I guess I should've used softer bristles.) So I mixed a bit of an opaque warm into the recipe in an attempt to subtlely cover them (over the right 1/2 of the background). Big mistake. It immediately ruined the illusion of depth as if I had thrown a dark, brown blanket in front of it. The thing is, once you've used an opaque, it can never again be "transparent". So, I'm hoping the tour guide at the MIA will relate some Rembrandt words of wisdom to get me out of this mess.
SEPT 2, 2012: Here's a closeup of a painting I'm revisiting. Better said, attempting to "save".
I wanted this painting in the Sherburne County Government Center show last spring and had just about finished it, but wanted to put a "retouch varnish" on it to protect it while it showed, with the intention of finishing it later. But, as I applied the varnish, I discovered the hard way that my paint had not dried enough. The varnish brush smeared the painting's brushstrokes all over the place, leaving the image a blended mess, very unpainterly. I was horrified that I had nearly ruined a painting I had worked hours on, but was determined to put it in the show so framed it, as is, anyway.
After the 6-week show, I was fortunately able to re-gear my brain back to the color scheme and visual idea I had had originally and managed to get it back in shape. I mention that here so you might not make that particular mistake. If so much time (and life) goes by after you've begun a painting, it's very difficult to take up where you left off. I advise my students to write down major visual decisions for each painting for that very reason.
SEPT 1, 2012: Here's sort of an oddball painting I threw together. It's based on a photo a good friend of mine loaned me a couple of years ago. She thought I'd like to paint it.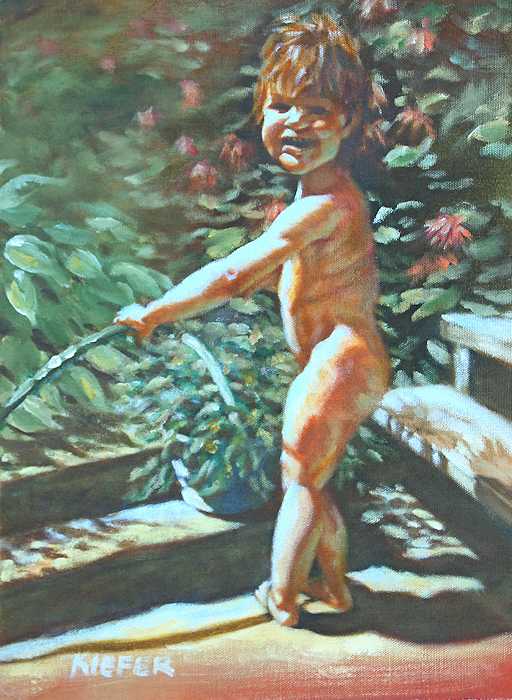 Not really my cup of tea (the "cute" thing). I especially dislike painting figures who are looking straight at you (unless there's a conceptual reason for it), especially a very young person like this. A child would rarely pose for you like that, so the painting becomes an obvious knockoff of a photograph. There was a bunch of small-leaved plants in the left foreground that I replaced with a hosta-like leaf just to break up the overall texture of the piece. Painting teeth is weird, but painting kid teeth is weirder, especially if they're in shadow. In a sense, this was quite a challenge for a throw-away painting. It will soon be a gift to the friend who loaned the pic to me. At least I
know
she likes the image.