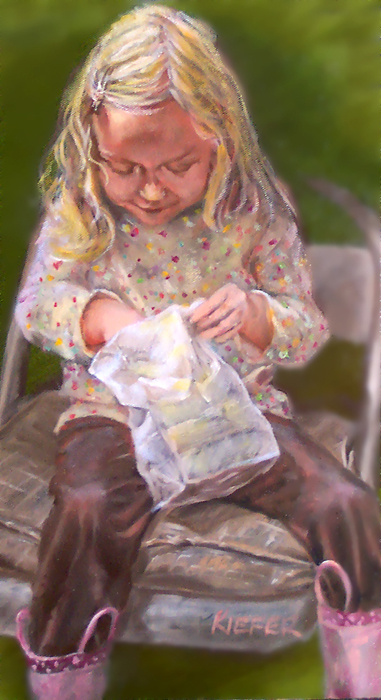 "As a Clam"
Oil on canvas, 16" x 20"

Original sold
PRINTS ONLY PURCHASE INFO
Sometimes I do painting demonstrations at special events. It's always a free-for-all atmosphere, people lining up to have me paint them publically (something I've never quite understood, but admire). I have to laugh it off in order to survive it. I'm not a caricature artist, so I actually attempt a likeness of each subject ... a 15-minute likeness. I've never met anyone who hasn't liked what I've produced for them, not because the results are particularly good, but I think because they instinctively know that what I'm trying to do under those circumstances is nearly impossible. The mother of this little girl was convinced that I could produce a masterpiece. Unfortunately, in the late afternoon, the girl was squirmy and complaining, unwilling to sit still. Normally I don't paint kids under 12 in that kind of setting. It's not fair to them or to me. So I suggested to the mother that I photograph the girl, finish the work in my studio later then mail it to her. She agreed.

As it turned out, I'm glad I didn't just schlep my way through this one. There was something special in her expression as she dove for handsful of popcorn. The patent-leather-pink-polka-dot boots were the icing on the cake. (What a hoot!) I wound up fully fleshing this one out (instead of the "oil sketch" that was expected), mailed it off to her (free of charge) and asked if I could use the image in my work. She graciously agreed. It became my Holiday card for 2010.

Technically it was challenging, especially the perspective on the face which was at an extreme angle downward. The white paper bag had to become somehow visually cohesive with the surrounding colors in the painting. Normally, pink, yellow and green wouldn't be my choice of a color scheme, but sometimes when an artist sits down to paint, knowing that the result doesn't have to be masterful, creative freedom can lead to success. I think it worked out pretty well this time. Wish I had it to show.