For those of you who are returning visitors, you'll find that the emphasis of the site has shifted from custom portraiture to fine art. While I still, of course, take commissions, it seemed as though it was time to place my original work front and center. I am in the process of setting up a new purchasing system on the site which will make it more convenient to buy paintings, prints or cards. In the meantime, if you wish to purchase an original or print of my work, please
contact me
directly.
While there are countless artists selling their work online, I'd like to try to make the case as to why my artwork is different than anything else you'll see on the web.

One easy explanation is that I have my own flavor of life experiences. But the viseral difference in my work is that my formal training was rooted in the theatre, not art school. There I learned the principles of performance craft as well as visual art as it applied to the stage. After many years working in the theatre, my focus turned to visual art, full circle, back to my my earliest influences as the child of visual artists. There was little modification transitioning from one discipline to the other.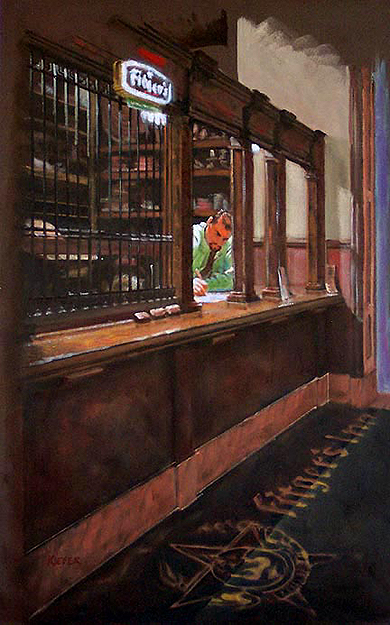 The canvas replaced the stage. It's as simple as that. I carried my interests as an actor directly into the center of my visual work. All art forms demonstrate the human condition through interpretations of the most fundamental relationships: man meets man, man meets nature and inner man. The artwork I offer is grounded in those classic ideas, soft served on a plate of familiarity.

I have not yet learned to speak above and around my artwork which is required in order to join the ranks of the important. In fact, whenever I encounter it, I find it mostly humorless and unnecessary. Metaphysical language just doesn't seem to matter to those who are drawn to my work. The way I approach it, if someone likes one of my paintings, it's because they have, in some personal way, connected with it. In the words of the late, great Sir Laurence Olivier, "It is what it is."

Welcome to my online studio. I hope you can stay awhile. Thank you.