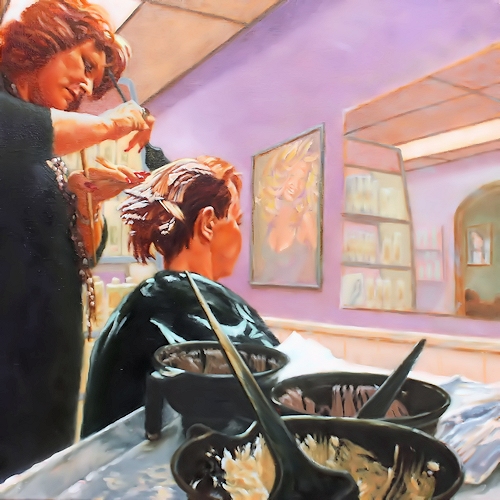 "Leslie McCallum Salon-Spa" by Karen Kiefer
All rights reserved. Copyright 2012 - 2015
This was the first painting completed in the series. We see Leslie, hair stylist and proprietor, working on a longtime client who had driven to the salon all the way from the northern tier of the State. Leslie's clientele is loyal, to say the least. It was mesmerizing to watch Leslie work. Her movements were fast, deliberate and efficient, as only someone who has worked tirelessly in this field could be.

I chose a palette of mostly secondary colors for this one: green, purple and orange. The darks of the dress and the client's cloak were painted with a dark green, the wall (which actually is a beige color) was painted in a purple (as well as the highlights in the piece) and the ceiling is a blend of oranges and purples. The handles of the paint brushes in the bowls in the foreground serve as a compositional tool, pointing the viewer's eye up to my area of interest: Leslie's hands. The angles created by the perspective of the wall also point to that area.

When I first sought my subjects for the series, having Leslie's painting completed made it easier for the others to get on board. The community is relatively small, so being able to show the others that someone they knew in town had already joined in on the project gave the series the jump start it needed. Thanks, Leslie!