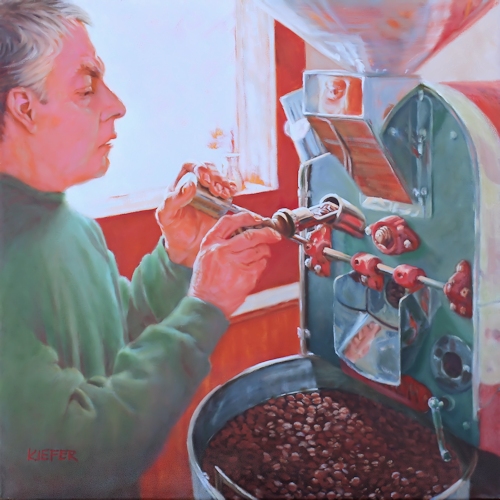 "Ground House Coffees" by Karen Kiefer
All rights reserved. Copyright 2012 - 2015
Charley is seen here manning the coffee bean roaster. While dexterity is not necessarily required in running the roaster, finesse definitely is. Here he demonstrates the sensitive nature of coffee bean roasting, constantly checking the batch with a small scoop to keep an eye on the bean color as it heats, adjusting the temperature if needed, and finally, just as the beans reach their full potential, they are released into the bin, ground and served fresh. Each type of bean has its own special quality. Both he and Jackie, his wife, have extensive training in preparing a variety of internationally-grown coffees and it shows.

The bright yellow shop, a repurposed gas station in the heart of Ogilvie, enjoys a mix of clients, ranging from locals to business people and vacationers who travel on that busy highway going through town. When I first thought of doing this series, I specifically thought of designer coffee shops such as this one. Assembling complicated, multi-ingredient coffee orders most certainly requires the dexterity of an artisan. The Ground House staff, during the daily morning rush, prepare their clients' delights with the grace of a ballet and the deftness of a concert pianist. Most often, the client is on their way to work or about to drop off their kids at school. Not a second is wasted in preparations and yet the product must be fresh, perfectly made-to-order and served with a smile to start their client's day off right.

I decided to change a few things from what was actually there in order to create a cohesive palette and what's called "big shape" (the lights and darks which create the greater shapes in the piece). Charley was actually wearing a light grey sweatshirt, but I decided to make it relatively dark (and green) to balance the "weight" of the roaster in front of him.