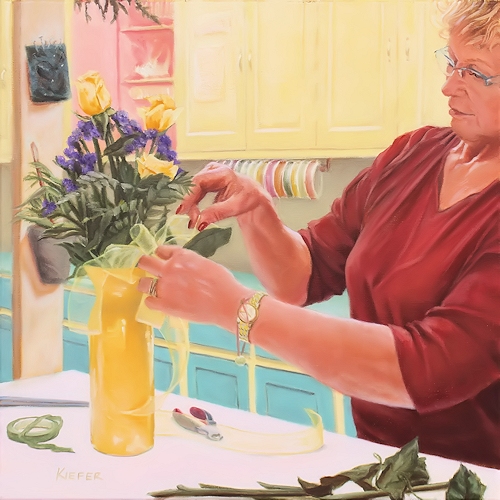 "Dandelion Floral" by Karen Kiefer
All rights reserved. Copyright 2012 - 2015
One of the first subject ideas I had for this series was a floral shop: the colors, the creativity, the dexterity! I asked a few questions before shooting and soon learned how deeply devoted Nancy is to this area. Having worked in the Cities for a very long time, she and her husband decided to "come home". Nancy believed that it was her responsibility to invest in her home town business community; to help make it thrive as she once knew it as a child. It so happened that the floral shop was available and she pounced on the opportunity. Nancy poured her heart into it. She recalled the days of her early childhood when her mother filled the home with beautiful and fragrant flower arrangements. Creating such beauty was in her blood. After acquiring the business, Nancy sought formal design education and, with the help of the previous owner, began setting up shop.

Her fingers whizzed around this bright yellow vase, handling the delicate flowers, buds, stems and ribbons with the efficiency only a pro could exhibit. I wanted candid views of the participants working, so I didn't ask them to pose or even pause in their movements. It was up to me to try to anticipate their hand positions from one moment to the next so that I could represent them in the best light (figuratively and literally) as was possible. Nancy made it easy.

An artist must choose specific elements from what's before them and create focus within the painting. For me, Nancy's right hand and forearm became the metaphor for the grace of her talents. The viewer's eye follows the line of the forearm then angles down the hand toward the ribbon, vase and flowers. The line of the left arm then leads us back to Nancy and the movement of the piece is complete.